5.5.7.2. Themes in Desktop Applications
The base theme for desktop applications is Nimbus.
To add any changes to the standard theme, you need to create a res.nimbus package in the com.sample.sales.desktop package of the desktop module. Theme files will be stored in the res.nimbus package.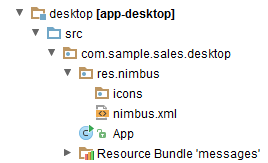 The icons folder contains icon files, the nimbus.xml file contains the description of the theme style.
The properties file of a desktop application should have cuba.desktop.resourceLocations property defined (defines a set of folders containing the style files):
cuba.desktop.resourceLocations = \
com/haulmont/cuba/desktop/res \
com/sample/sales/desktop/res
Below are examples of common tasks.
Adding an icon

Redefining default values of theme properties

Creating a style for an element using standard tools

Creating a custom style